New Product Development Resources
The following resources provide background information on new product development processes.
Publications

The Publications page presents a collection of articles authored by Mark A Hart. Most of these publications appeared in Visions Magazine.
Book reviews
The Book Reviews page provides links to current new product development book reviews. Most of these book reviews appeared in the Journal of Product Innovation Management and are not available elsewhere without a subscription to this journal.
Blog
The OpLaunch blog explores the factors that contribute to extraordinary innovation in new product development and contrasts this with the precursors that produce mediocre results. Typically, this blog explores multiple approaches to enhance the capabilities of individuals within New Product Development (NPD) networks.
Twitter: @OpLaunch
Tweets by @OpLaunch
Presentations
Podcasts - Development Experience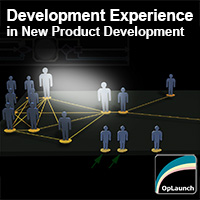 The Development Experience podcast explores how to enhance the NPD capabilities of individual contributors.
Contact OpLaunch for training to shape your new product development success
To inquire about specific ways to improve your new product or service development results, contact OpLaunch to start a Winning Consistently discussion.